What's on in Thurrock
Betty Blue Eyes
Wednesday 15 March 2023, 7:30pm
to
Saturday 18 March 2023, 7:30pm
Following the success of 'Legally Blonde' and 'The Addams Family', TOPS on Stage is delighted to bring its next musical production, 'Betty Blue Eyes', to the Thameside Theatre.
Adapted from the comedy film 'A Private Function', Betty Blue Eyes is an utterly British musical, full of eccentric characters, such as:
Gilbert – an evangelistic chiropodist
Joyce – a nobody determined to be somebody
Inspector Wormold – an obsessive destroyer of illegal meat
Mother Dear – "She's seventy-four and ravenous"
...plus a weird assortment of bullies, spivs, snobs and of course, our star, Betty the pig
Betty Blue Eyes is set in 1947. Having won the war, Britain seems to be losing the peace – the country is staggering under rationing, unemployment, and the coldest winter for decades. Belts are being tightened, and government is telling the country there'll be fair shares for all if they survive Austerity Britain.
Meanwhile, local officials feather their own nests by taking more than their fair share. The only bright spark on the horizon is the impending Royal Wedding of Princess Elizabeth and Prince Philip.
There are 5 performances:
Thursday 15 March 2023 – 7:30pm
Friday 16 March 2023 – 7:30pm
Saturday 17 March 2023 – 7:30pm
Sunday 18 March 2023 – 2:30pm
Sunday 18 March 2023 – 7:30pm
Your safety is very important to us
If you or anyone you live with has any of the symptoms of COVID-19, please do not attend. You can ask for your tickets to be transferred to another date or to get a credit on your account for a future show.
It is no longer a legal requirement to wear a mask, but the theatre is an enclosed space and you will be in close contact with people you don't normally meet so we encourage you to wear a mask unless exempt. Please respect the decisions of others.
To avoid crowding, we are staggering arrival times. Please check your tickets carefully so you can arrive at the time shown below for your row of seats, then make your way to your seat as soon as possible:
rows A to H – 30 minutes before the performance starts
rows J to P – 15 minutes before the performance starts
Coronavirus (COVID-19) disclaimer
Due to the current pandemic all events are subject to any government restrictions in place at the time of the event. If we are unable to go ahead with the event, or if numbers have to be restricted, we will automatically transfer your tickets to the next available date. If this is not convenient, or if the show cannot be rescheduled, you will be offered a full refund or a transfer to another show.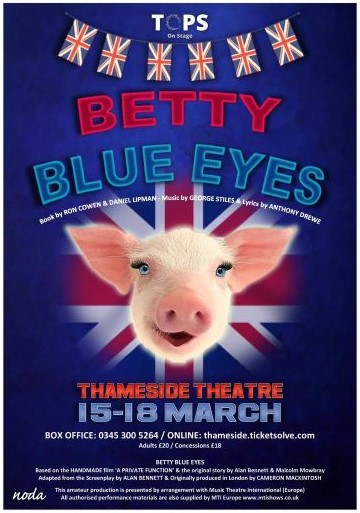 Where
Thameside Theatre, Orsett Road, Grays, RM17 5DX
Tickets
Cost:
Book 10 tickets and pay for only 9