What's on in Thurrock
Buddy Holly's Winter Dance Party
Thursday, 31 January 2019 -
Four West End Artists pay tribute to Buddy Holly, Big Bopper, Richie Valens and Di Mucci on this, the 60th Anniversary Weekend of losing three Icons of Rock n Roll Music.
Marc Robinson from the original 'Stars in their Eyes' and 'Buddy the Musical', will help celebrate the music of Buddy Holly along with The Counterfeit Crickets – a lively rock 'n' roll band that hits the spot every time – in a recreation of the last tour given in The Surf Ballroom, Iowa, USA.
Buddy Holly's music is respected worldwide, and Buddy Holly's Winter Dance Party keeps that passion alive!
This 2-hour uplifting show will have you foot tapping, singing or itching to be out of your seats for a fun packed rock 'n' roll evening!
With all the hits…
'Heartbeat'
'Blue Days Black Nights'
'Bo Diddley'
'True Love Ways'
'La Bamba'
'Chantilly Lace'
'Run Around Sue'
...to name but a few!
Pure rock 'n' roll at its Best! Will rock 'n' roll ever die? That'll be the day!
www.facebook.com/WinterDancePartyUK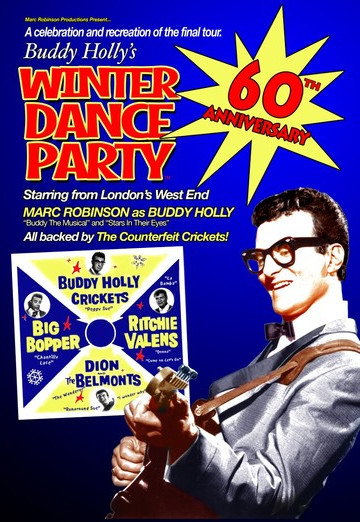 Where
Thameside Theatre, Orsett Road, Grays, RM17 5DX