What's on in Thurrock
International Holocaust Memorial Day service 2019
Saturday, 26 January 2019 -
Holocaust Memorial Day (HMD) is dedicated to the remembrance of those who suffered in The Holocaust, under Nazi persecution, and in subsequent genocides. It was first held in January 2001 and has been on the same date every year since. The chosen date is the anniversary of the liberation of Auschwitz concentration camp in 1945.
Each year, a memorial service is held at High View Avenue Memorial Gardens in Grays to remember the horrors of genocide, and to reflect on our will to build peaceful communities for the future. Find the Memorial Gardens on Google Maps.
The theme of HMD 2019 is 'Torn from home', which encourages us to think about how the enforced loss of a safe place to call 'home' is part of the trauma faced by anyone experiencing persecution and genocide. 'Home' usually means a place of safety, comfort and security.
On HMD 2019 we will reflect on what happens when individuals, families and communities are driven out of – or wrenched from – their homes because of persecution or the threat of genocide. We also reflect on the continuing difficulties survivors face as they try to find and build new homes when the genocide is over.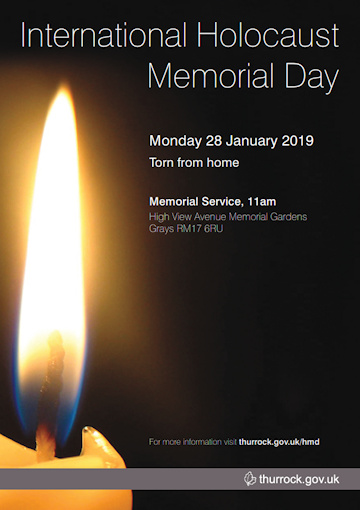 Where
High View Avenue Memorial Gardens, Grays, RM17 6RU