What's on in Thurrock
International Holocaust Memorial Day service 2020
Monday, 27 January 2020 -
Holocaust Memorial Day (HMD) is dedicated to the remembrance of those who suffered in The Holocaust, under Nazi persecution, and in subsequent genocides. It was first held in January 2001 and has been on the same date every year since. The chosen date is the anniversary of the liberation of Auschwitz concentration camp in 1945.
Each year, a memorial service is held at Palmer Memorial Gardens, High View Avenue in Grays to remember the horrors of genocide, and to reflect on our will to build peaceful communities for the future. Find the Memorial Gardens on Google Maps.
The theme of HMD 2020 is 'Stand together', which looks at how genocidal regimes throughout history have deliberately split societies by marginalising certain groups, and how individuals can challenge these tactics by standing together with their neighbours and speaking out against oppression.
HMD 2020 marks the 75th anniversary of the liberation of Auschwitz. This is significant milestone is made more poignant by the dwindling number of survivors who are able to share their testimony. It also marks the 25th anniversary of the genocide in Bosnia.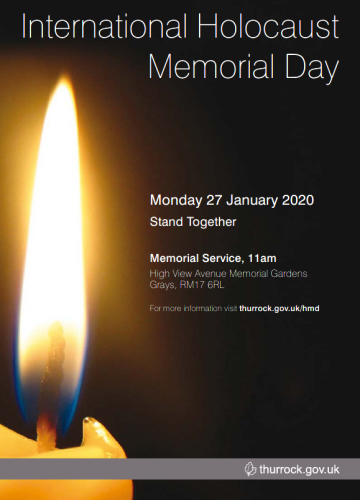 Where
Palmer Memorial Gardens, High View Avenue, Grays, RM17 6RU