What's on in Thurrock
Jack and the Beanstalk
Friday 1 December 2023, 6pm
to
Wednesday 3 January 2024, 6pm
Polka Dot Pantomimes and the Thameside Theatre are delighted to announce the Christmas Pantomime for which you've all bean waiting – Jack and the Beanstalk!
Pantomime at the Thameside Theatre is always the highlight of the festive calendar. This year's show promises to be bigger and better than ever as we present a giant of a pantomime suitable for the whole family.
Get ready to roar with laughter and cheer our hero Jack on his magical journey to Cloudland as he battles to save his best friend Daisy the Cow!
As always there'll be spectacular scenery, dazzling costumes, amazing special effects and lots of audience participation.
With a fabulous cast featuring some familiar faces and the biggest Giant in Pantoland, it won't cost you a bag of magic beans but it will be fe-fi-fo-fun for everyone! So book your tickets now!
This show runs for 2 hours and 20 minutes, including a 20-minute interval. Everyone is welcome but it may not be suitable for children under 3 years-old.
There will be performances every day from 1 December 2023 to 3 January 2024, plus the special performances listed below.
Special performances
This year we're also offering the following special performances, for which there will be separate ticket sales:
Relaxed Performance – 6pm, 7 December 2023
British Sign Language (BSL) Signed Performances – 11:30am, 10 December
British Sign Language (BSL) Signed Performances – 3:30pm, 17 December
Prank Performances for ages 16 years-old and over – 7pm, 5 January, 6 January and 7 January 2024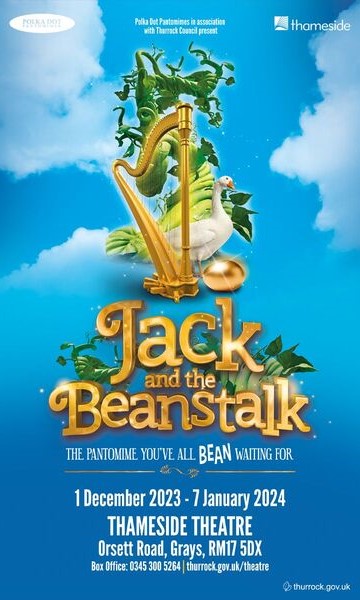 Where
Thameside Theatre, Orsett Road, Grays, RM17 5DX
Tickets
Cost:
Check prices on the Thameside Theatre booking pages, including great discounts for groups.