What's on in Thurrock
Jack and the Beanstalk - relaxed performance
Thursday 7 December 2023, 6pm
Polka Dot Pantomimes and the Thameside Theatre are delighted to announce the Christmas Pantomime for which you've all bean waiting – Jack and the Beanstalk!
This special 'relaxed' performance is designed to welcome people who will benefit from a more relaxed performance environment. This includes people with sensory and communication needs, or those that like to learn in different ways.
The performance will have a relaxed attitude to noise and movement, with changes made to the light and sound. There will be no flashing lights or pyrotechnics, so the show will be suitable for those with light sensitive epilepsy and other sensitivities.
Enjoy all the usual fun of pantomime but with the volume turned down, the houselights left up and no sudden noises or bangs! You can come and go as you please into our breakout area in the foyer and enjoy the show how you want to. It's perfect for anyone who may need a more relaxed environment so that nothing feels overwhelming or unpleasant.
The theatre is happy for audience members to arrange a visit before the show to look around, get familiar with the surroundings and sit in their seats to make sure they're suitable.
So join us for this unique performance where our pantomime can be accessed and enjoyed by all.
In addition to this relaxed performance, there will be regular performances every day from 1 December 2023 to 3 January 2024, plus other special performances.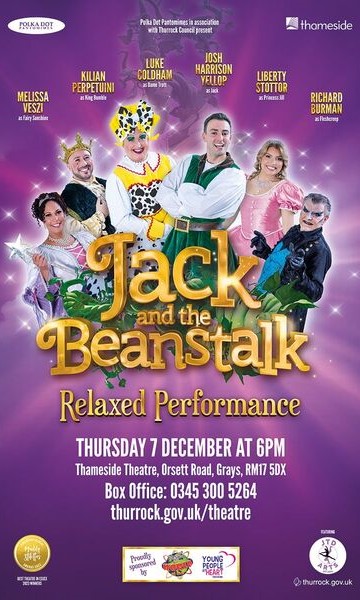 Where
Thameside Theatre, Orsett Road, Grays, RM17 5DX
Tickets
Cost:
Check prices on the Thameside Theatre booking pages, including great discounts for groups.