What's on in Thurrock
Love Games
Friday 26 June 2020, 7:30pm
New English Ballet Theatre presents Love Games: 5 inspired choreographies, 5 different stories, 5 different games...
Choreography by Wayne Eagling, Daniela Cardim, Ruth Brill, Morgann Runacre-Temple and Peter Leung.
In Wayne Eagling's Jeux, a flirtatious game is transformed into a tribute to Vaslav Nijinsky, reflecting on the power and vulnerability of the artist.
Relationship games are afoot in Daniela Cardim's Vertex, a dynamic response to Guarnieri's music.
Ruth Brill's Domino plays with patterns and pairings in a game of human dominoes.
Set to a modern arrangement of Schubert's 'Rosamunde Quartet', Morgann Runacre-Temple's Rosamunde plays with ideas of revealing and concealing.
Peter Leung's All in passing explores the way relationships shift and morph as time passes.
**** "… a rich menu of thoughtful and engaging choreography, very well performed by consistently excellent emerging dancers and musicians..." – Christopher Curtis on Quint-Essential (bachtrack, 2016)
"Top honours [...] go to Cardim for Vertex, a highly attractive, inventively dynamic ensemble dance inspired by a lively, tender string quartet by Camargo Guarnieri..." – Donald Hutera (The Times, 2016)
"New English Ballet Theatre is [...] packed with burgeoning talent, diverse offerings and plenty of pluck." – Deborah Weiss on New Works (dance tabs, 2019)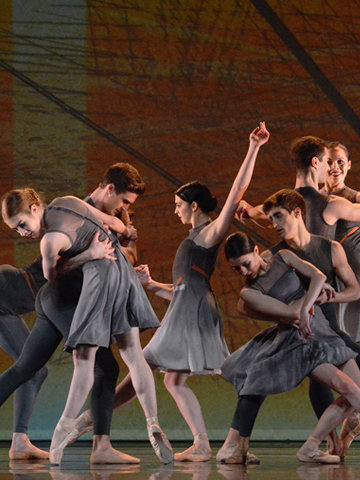 Where
Thameside Theatre, Orsett Road, Grays, RM17 5DX