What's on in Thurrock
The Matchgirls
Thursday, 13 February 2020 - 7:30pm
to
Saturday, 15 February 2020 - 7:30pm
Pay and conditions were appalling for the 1,400 women and girls working in the East End's Bryant and May match factory in 1888.
This riotous, gritty musical captures the energy and spirit of these remarkable women as they battle the terrible disease, phossy jaw, caused by the cheap phosphorous they are forced to work with. Their courage and determination shines through as they take on the company, going on strike to protest against poor working conditions and the pittance they earn working 16-hour days. 
Join us and the 'sparky' Matchgirls on their heart-warming journey for justice in the Victorian East End.
Show dates and times:
Thursday 13 February, 7:30pm
Friday 14 February, 7:30pm
Saturday, 15 February, 2:30pm
Saturday 15 February, 7:30pm
This is an amateur production by Havering Music Makers. If you would like to know more about the group or join their mailing list, email info@haveringmusicmakers.co.uk
Doors open an hour before the show starts.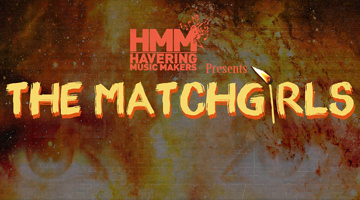 Where
Thameside Theatre, Orsett Road, Grays, RM17 5DX