What's on in Thurrock
Snow White and the Seven Dwarfs - Thameside Theatre Christmas Panto!
Friday 4 December 2020, 10am
to
Sunday 3 January 2021, 6pm
MIRROR, MIRROR on the wall, what's the fairest panto of them all?
Thameside Theatre and Polka Dot Pantomimes are delighted to announce that this year's Christmas pantomime will be the magical 'Snow White and the Seven Dwarfs'. This enchanting fairytale will captivate audiences of all ages and is the perfect festive treat for the whole family.
Spectacular! Amazing!
This year's cast will feature Thurrock's favourite Dame, Luke Coldham as Nurse Nelly, alongside the hilarious John Oakes as Muddles and the beautiful Alice Fillary as Snow White.
With spectacular scenery, dazzling costumes, amazing special effects and plenty of audience participation, Snow White and the Seven Dwarfs promises something for everyone, so book your tickets now!
Shows run from Friday 4 December 2020 to Sunday 3 January 2021.
There will be a British Sign Language (BSL) signed performance at 2pm on Sunday 13 December.
Meet the cast in the foyer after the show at 6pm on Friday 4 December, Friday 18 December 6pm and Wednesday 30 December.
Don't miss out
Tickets are already on sale – book yours online today to make sure you don't miss this spectacular show!
Groups of 20 or more
Do you have a big group of family or friends, a school or nursery group, scouts, brownies or a football team? We can help you to make a great day or evening out. If you book as a group of 20 or more, every 11th ticket is free!
You can call the theatre office on 01375 413 981, Monday to Friday from 9am to 5pm, or email thameside.theatre@thurrock.gov.uk for a booking or more information.
Relaxed performance
The 'relaxed performance' at 6pm, Saturday 12 December is designed especially to welcome people who will benefit from a more relaxed performance environment, including people with an autism spectrum condition, sensory and communication disorders, learning disabilities or dementia.
This performance is all about feeling comfortable and being able to enjoy a classic, well-loved festive event with family in an understanding environment. Registered carers can come along too for free.
Tickets for the relaxed performance are available at a reduced rate. For enquiries, call 01375 413 981, 9am to 5pm, Monday to Friday.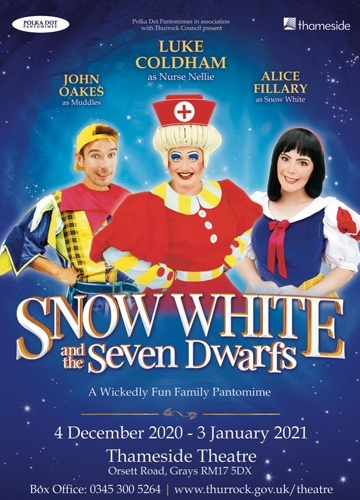 Where
Thameside Theatre, Orsett Road, Grays, RM17 5DX
Tickets
Cost:
£18 for ages 4 to 16 years-old
Cost:
£9 for ages 12 months to 3 years