What's on in Thurrock
That's Amoré
Saturday, 8 February 2020 - 7:30pm
Make a date to see Tenors Un Limited – the 'rat pack of opera'.
The number 1 selling classical vocal trio once again thrill with their uplifting new show 'That's Amoré'
Let Scott, Paul and Jem take you on a journey through some of the best loved songs of the last century, made famous by other icons of song, such as Pavarotti, Lanza, Sting, Bublé and Freddie Mercury.
All your troubles will melt away as these 3 greatest of showmen present a diverse programme with their trademark soaring vocals, velvet harmonies and killer sense of humour.
"Bravi!" – Sting
"They came they sang they conquered!" – Georgetown Sun, Texas
"21st Century Tenors – great voices, great fun and a great evening!" – Alan Titchmarsh MBE
"Tenors with attitude!" – The STAGE
Doors open at 7pm. Show starts at 7:30pm.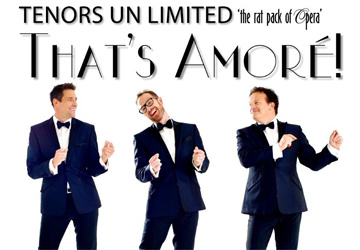 Where
Thameside Theatre, Orsett Road, Grays, RM17 5DX