What's on in Thurrock
Thurrock Courts Players: The Audience
Thursday 9 June 2022, 7:45pm
to
Saturday 11 June 2022, 7:45pm
To celebrate the upcoming Platinum Jubilee, award-winning group Thurrock Courts Players are very excited to be returning to the Thameside theatre with their production of 'The Audience' by Peter Morgan (creator of Netflix's smash hit 'The Crown').
This extraordinary play centres around the private audiences Her Majesty The Queen has had with her prime ministers over the years, from Churchill to Cameron. Our audiences will get to be flies on the wall for what were the most private conversations ever exchanged between sovereign and state.
A mixture of scandalous revelations and true human sentimentality, sprinkled with hilarity and nostalgia. Directed by Luke Coldham
There will be 4 performances:
Thursday 9 June, 7:45pm
Friday 10 June, 7:45pm
Saturday 11 June, 3:45pm
Saturday 11 June, 7:45pm
Your safety is very important to us
If you have received a positive COVID-19 test or you are feeling unwell, please do not attend.
It is no longer a legal requirement to wear a face covering, but the theatre is an enclosed space and you will be in close contact with people you don't normally meet, so we strongly encourage you to wear one unless exempt. We do not have social distancing built-in to our our seating plan.
Our foyer area has been re-designed to allow a better flow of people, so you can now buy all your drinks and snacks in one place. Please keep your distance and follow the signs throughout the building. An electrostatic disinfection service helps keep our venue safer for customers and staff.
To avoid crowding, we are staggering arrival times. Please check your tickets carefully so you can arrive at the time shown below for your row of seats, and then make your way to your seat as soon as possible:
rows A to D – 40 minutes before the performance starts
rows E to H – 30 minutes before the performance starts
rows J to P – 20 minutes before the performance starts
Coronavirus (COVID-19) disclaimer
Due to the current pandemic, all events are subject to any government restrictions in place at the time of the event. If we are unable to go ahead with the event, or if numbers have to be restricted, we will automatically transfer your tickets to the next available date. If this is not convenient, or if the show cannot be rescheduled, you will be offered a full refund or a transfer to another show.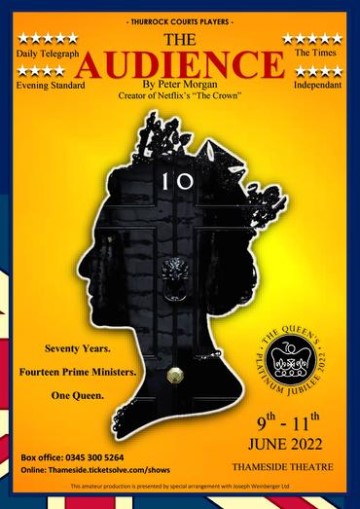 Where
Thameside Theatre, Orsett Road, Grays, RM17 5DX