What's on in Thurrock
The Vicar of Dibley - The Second Coming
Thursday 11 February 2021, 7:45pm
to
Saturday 13 February 2021, 7:45pm
Thurrock Courts Players return with their production of 'The Vicar of Dibley'!
A few years ago, Thurrock Courts Players won an award for the best play with their version of 'The Vicar of Dibley'. This followed the TV episodes up to the wedding of Hugo and Alice.
Now three years have rolled by and the Dibley characters return to Dibley to celebrate the coming of Christmas. With the original Thurrock Courts Players cast in place, we entered the wonderful world of Geraldine having settled in her role as Vicar, the return of Hugo and Alice from honeymoon, the discovery of Alice's pregnancy – much to the disapproval of father-in-law David – and the colourful Parish Council committee members gathering to give the village a festive production to remember!
We laugh through meetings with bizarre suggestions, descriptions of the Great Storm, quiet aside jokes that dear Alice never got, the Radio Dibley broadcasts when minute-taking boring Frank makes a revealing announcement, auditions, Brain of Dibley quiz when Alice quashed David culminating in a real live Nativity...
Performances will take place on:
Thursday 11 February at 7:45pm
Friday 12 February at 7:45pm
Saturday 13 February at 3:45pm
Saturday 13 February at 7:45pm
This is likely to sell out fast. No, no, no, no... yes it will! So get your tickets early.
If your favourite seat isn't available online it may be in the allocation held by Thurrock Courts Players. You can contact their box office by phoning 07475 634 474 or go to the Thurrock Courts Players website.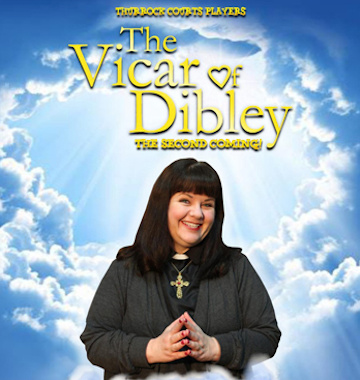 Where
Thameside Theatre, Orsett Road, Grays, RM17 5DX