Thames crossing consultation in 2016
The government's latest consultation on proposals for a new road crossing across the Thames, connecting Kent and Essex, closed on 24 March 2016.
In their consultation, Highways England proposed a dual carriageway connecting junction 1 of the M2 to the M25 between junctions 29 and 30, which crosses under the Thames at a site just east of Gravesend and Tilbury, known as Location C. The proposal included options for 3 routes north of the river and 2 routes south of the river. They also considered the site of the current M25 crossing, known as Location A. Go to Highways England: Lower Thames Crossing to find out more.
In November 2015, councillors voted unanimously that:
"This Council remains opposed to government plans for a further river crossing in Thurrock and commits to continue campaigning, alongside local residents, on this issue."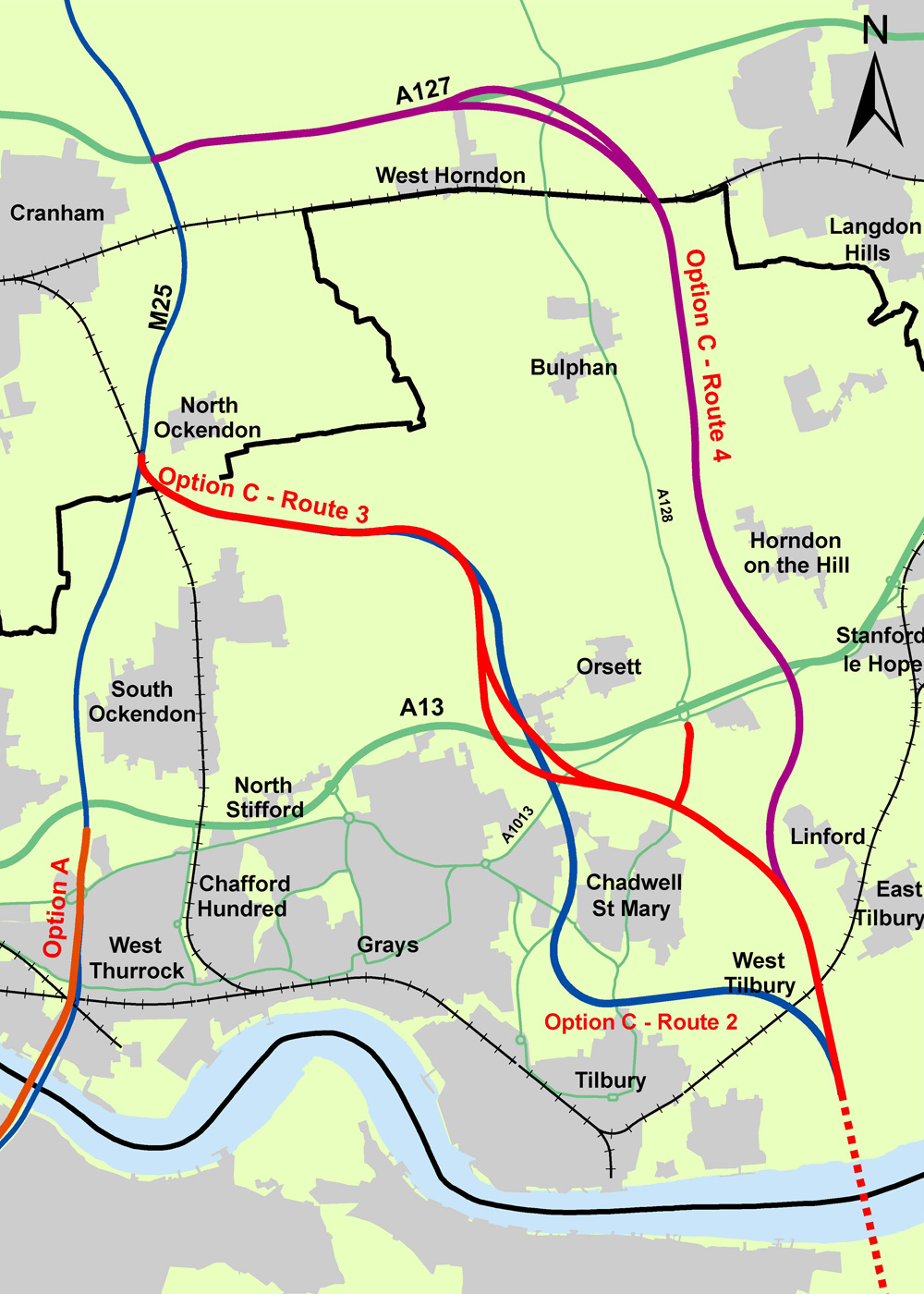 You can open a larger view of this map image.
Our concerns
Our concerns are that:
although exact routes are not clear, each would affect many homes and businesses in Thurrock
all routes would impact the green belt
it's not clear how much thought has been given to flooding
poor air quality can affect people's health
none of the proposals are likely to ease congestion around the existing Dartford crossing or the rest of Thurrock
Letters to the Chancellor of the Exchequer, the Secretary of State for Transport and Highways England
The leaders of Thurrock's 3 major political parties have written to:
the Secretary of State for Transport, raising serious concerns and about Highways England's consultation
Highways England, complaining at its cavalier attitude towards local people and the council
Their letter of 29 February calls for the consultation to be halted, immediately.
Letters sent by Thurrock's three major political parties
In addition, the Leader of the Council has written to the Chancellor of the Exchequer:
Public meetings and information events
We held a number public meetings to discuss the proposals.
Highways England also held public information events with information about their Thames crossing proposals.