Thurrock Council is flying the flag of Ukraine at the Civic Offices in New Road, Grays, as a show of solidarity following the invasion by forces from the Federation of Russia.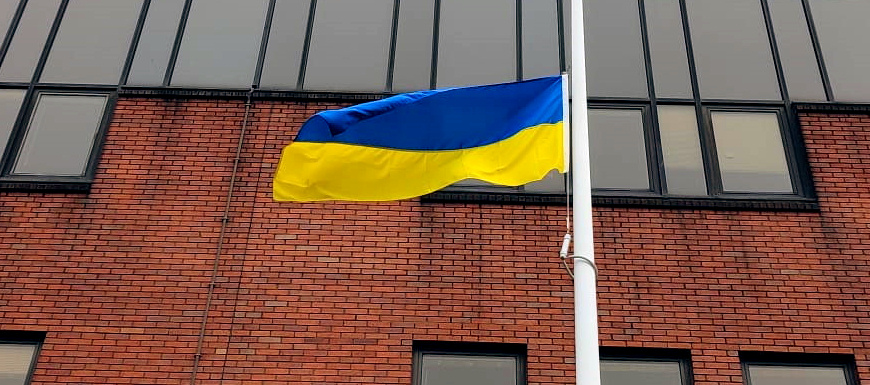 By flying this flag, we want Ukrainians to know that they have friends and supporters in Thurrock and all over the world.
Thurrock Council is united in joining the international community to condemn any force that would use violence and aggression to silence the true voice of democracy.
Supporting the Ukrainian people
We are working with our partners to find the most effective ways we can provide support for the people of Ukraine at this time.
Many of our residents and businesses have also said they want to help the Ukrainian people.
The Charity Commission and Fundraising Regulator have urged the public to "give safely" to registered charities helping and supporting those affected by the invasion of Ukraine.
We recommend anyone who wants to support should do so by donating money to recognised charities already working on the ground in Ukraine. These include:
For more advice, go to GOV.UK: Ukraine – what you can do to help.
Offering a home to people fleeing Ukraine
You can register your interest in supporting a Ukrainian person or family through the government's 'Homes for Ukraine' scheme.
You don't have to know the individual or family personally to register your interest in helping. However, you must be able to offer a spare room or separate self-contained accommodation for at least 6 months. You will receive £350 per month for up to 12 months.
To find out more and to register as an individual or a business, go to GOV.UK: Homes for Ukraine – record your interest.
For further information, go to GOV.UK: Home for Ukraine frequently asked questions – this is the best place for latest information as the government will continue to keep it updated.
Homes for Ukraine scheme - moving on
If you came from Ukraine to live in Thurrock UK government's 'Homes for Ukraine' scheme, we hope our borough has been a place of safety and sanctuary for you.
As some of our guests from Ukraine are now moving on from the Homes for Ukraine scheme, we have provided information to explain the housing options available.
Go to Homes for Ukraine scheme - moving on.
Visa support for Ukrainians and their families
The government's Ukraine Family Scheme allows British nationals and people settled in the UK to bring more family members to the country for up to 3 years. Go to GOV.UK: apply for a Ukraine Family Scheme visa.
For information on other visa support for Ukrainian nationals and their family members, go to GOV.UK: UK visa support for Ukrainian nationals.
Against the Russian invasion
We stand with Ukraine and are making sure that nothing we do could be supportive of Russian state interests.
We do not have a contract with Gazprom, the Russian majority state-owned multinational energy corporation. We have checked our records and can confirm we have no readily identifiable direct contracts with any Russian company.
For full information on the UK's response to the Russian invasion, go to GOV.UK: the UK stands with Ukraine.