In focus - Coalhouse Fort
Coalhouse Fort was built between 1861 and 1874 to help defend the Thames estuary. It is surrounded by Coalhouse Fort Park and has a number of World War 2 gunnery posts.
How to get there
The fort and its park are located in the south-west of Thurrock, near East Tilbury village – see the map below. It is:
a 10-minute drive from M25/A13
a 20-minute drive from Lakeside Shopping Centre, with shops, restaurants and leisure facilities
a half-hour walk from East Tilbury rail station on the c2c line between London Fenchurch Street, Grays and Southend

Why Coalhouse Fort is a great film location
Coalhouse Fort has:
massive granite walls and cast-iron surrounded gun ports
well-lit tunnels leading to large rooms originally used for artillery storage
a radar tower – built to resemble a water tower – on the river front
vast surrounding areas of greenery ranging from marshes, grass and woodland
various water sources, including an enclosed moat at the front of the fort
access to the River Thames
a large dedicated car park that is locked every night
a café that can cover your catering needs, if requested in advance
a relatively quiet location, free from the noise of passing traffic
a ranger on site with expert knowledge of the grounds and support for filming
Scheduled Monument status, located within a Site of Special Scientific Interest (SSSI) and a RAMSAR conservation wetland site
Put simply, Coalhouse Fort is a beautiful site that can be used all year round for all kinds of filming – care must be taken not to disturb nesting birds and other wildlife at certain times of year, but we can advise on a request by request basis. There is a range of landscapes all located within a continuous park area, which means a great many filming requirements can be met within the vicinity.
Coalhouse Fort has been used regularly for filming, including for the film 'Batman Begins' and the TV programmes 'The Third Day' and 'Taboo'.
Permission to film at Coalhouse Fort Park
You must visit the site and consult with the Coalhouse Fort Ranger service before any filming can be approved.
Coalhouse Fort Park has protected wildlife designations and the fort itself is a Scheduled Monument, which means you will need additional permissions if you wish to film. You must obtain permission from:
Natural England, due to the potential for disturbing wildlife at special protection areas (SPA) and sites of special scientific interest (SSSI)
Historic England, due to the potential for filming on or near a Scheduled Monument
Port of London Authority (PLA), who monitor all activity along riversides and foreshores of the River Thames
We will check you have received all necessary permissions before we can grant permission to film.
Send us details if you're interested in using this unique site for your film location.
Feature – the fort building
The Fort is circular in design with one direct access point. A section of the fort is currently being refurbished but the rest is usable and available on 3 floors – the ground level with access to tunnels and artillery stores, the second level with access to storage areas and the third level with access to the roof and views across the park land.

Feature – the fort interior
The interior includes Kentish ragstone elevations and gate surrounding a ground-level parade site, large guns in situ and a place of remembrance. These areas can represent atmospheric settings for wartime, prison and underground scenes.

Feature – the tunnels
Tunnels beneath the fort are well maintained and lead to various magazine storage rooms. A refurbished lighting system makes them easy to navigate. They can be used to depict many periods or settings.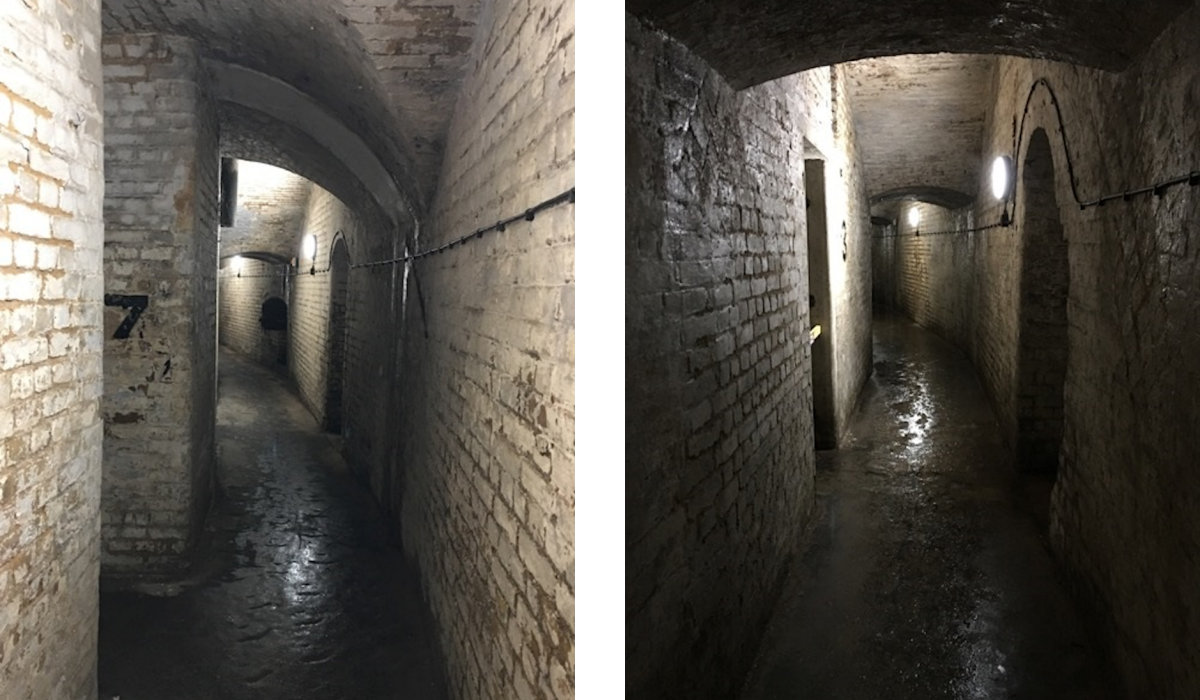 Feature – moat and river
The water sources at the Fort are available through an enclosed moat, which is located to the front section of the Fort. This doesn't have a current so the water is still and can be used for various activities. The Fort also fronts onto the River Thames with views across to Kent.

Feature – park lands and marshes
The park lands have received the Green Flag Award-winning park – the mark of a quality park or green space – and are maintained by a ranger who is based on on-site. The marshes are a little more on the 'wild' side meaning, allowing wildlife to thrive amid greenery all year round.

Feature – minefield control tower
The minefield control tower is located to the front of the fort and on the moat. It is still fully intact and has a robust look of stone in keeping with the fort.

Feature – radar tower
The radar tower is built on the shore of the River Thames. The tower itself cannot be entered but it may provide a dramatic backdrop presence. Original railway sleepers and the remains of a jetty are also in the area around the tower. Grassland and riverbank can also be found near the tower to make it accessible.

Feature – bank land
The bank land area is accessible at both high tide and low tide, but offers a much larger area when the river is out. There are clear views across to Kent from this area.

Feature – pathways
There are various pathways around Coalhouse Fort, some being concreted and clearly defined and others being carved through parkland. There are no modern features around the pathways so they can be used for any time period.

On the map
Coalhouse Fort is situated at the south end of Princess Margaret Road, East Tilbury, RM18 8PB