This article was written by Dave Honeywell, Musical Director of Grays Town Band, 2021.
Formed in 1888, Grays Town Band was known as the 'Sons of Temperance Band'. The Sons of Temperance were one of a dozen similar organisations campaigning against the tide of excessive drinking. At the time it was threatening family life and causing untold misery in industrial areas like Tilbury, Grays Thurrock and West Thurrock.
The band was the musical arm of the splendidly-named 'Sparkling Spring Lodge of the Sons of Temperance' (No.  595 Grays Sub-division). Bandsmen were not called members but 'Brothers' and they met for practice on Monday evenings, appropriately over the 'Queen Victoria Coffee Tavern' in the High Street, Grays. The building still survives with its effigy of Queen Victoria.
Their first Bandmaster was Mr  W  Layzell, who ran a music and instrument shop in New Road. The Secretary was Brother J. Cornhill of 12 Florence Cottages, and the Treasurer was Brother A. Bradish.
In 1905, Mr Frank Gray, who came from Durham, was appointed Bandmaster and the band's name was changed to the 'Grays and District Temperance Band'. They also changed their headquarters, again finding an appropriate spot, this time above Knowles and Tampkins Mineral Water manufacturing works in Crown Road, known as the Niagara Works. The following year the band's name changed again, this time to 'The Grays Temperance Band' and remained with that name until 1950.
The band moved its headquarters in 1928 to its present location in John Street, formerly the Comrades Club. This was only made possible due to the dedication of bass trombone player, Frank Francis who mortgaged his house to secure the building for his colleagues. Mr Frank Francis completed 50 years of service as a playing member of the band.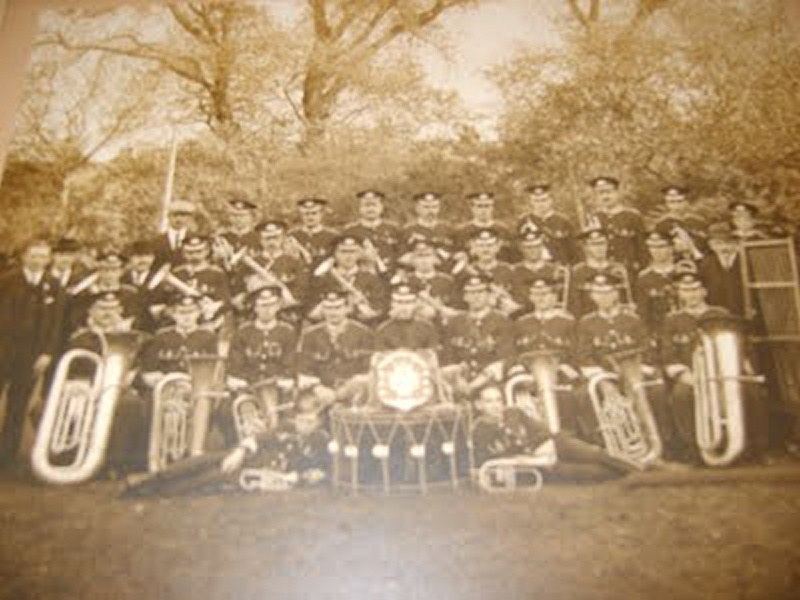 Photograph: Grays Town Band, around 1938, copyright Dave Honeywell.
A junior band was formed under the direction of Mr EC Merrick in 1936/7, and many of the young players taught by him carried the band through numerous successes during the war years. One notable highlight was winning the 1945 'Daily Herald' Silver Challenge Cup in the second section. They were the youngest Senior Brass band ever to have won in the history of this competition.
The following year, they won the Victory Band Contest second section held at East Ham Town Hall, on the test piece 'Songs of England'.
The band's name changed again for a short while from 1950 to the 'Thurrock Silver Band', before reverting back to the 'Grays Temperance Band'. It finally took on its current name of 'Grays Town Band' in 1987, allowing its monogram on uniforms and other equipment to continue.
The band has been Essex Champions on 8 occasions and has twice won contests at Wijk en Aalbure in the Netherlands.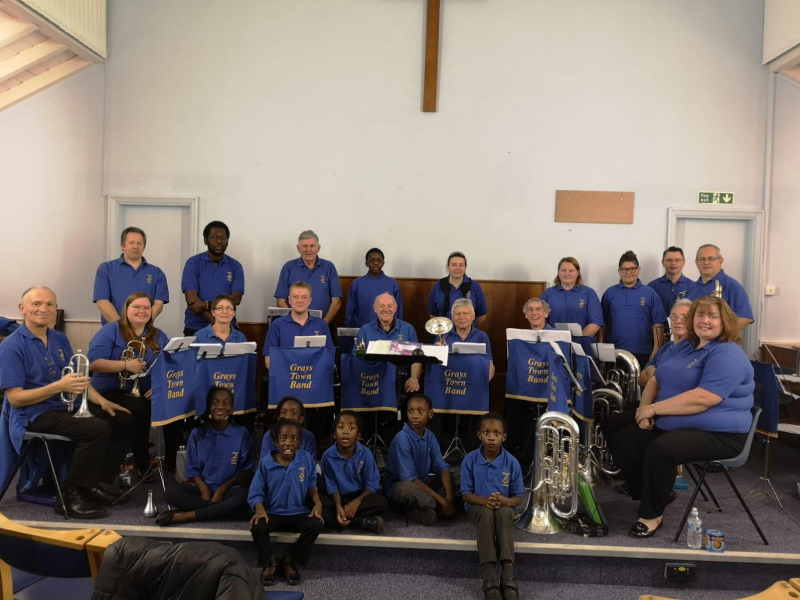 Photograph: Socketts Heath Baptist Church Concert 2017, copyright Dave Honeywell.
In 1991, the band's uniform was changed from brown to royal blue. The band's President at this time was Mr E. Oakley. He continued to teach youngsters free of charge and play at local events within their community.
In 1993, there was a change of Musical Director. Dave Honeywell, who was aged only 20 at the time, took over from Harry Curley. Dave was already in charge of the learners at this stage so he saw the importance of youth being a lifeline for the band's longevity and a feature going forward.
There has also been a migration in the musical genres so that many different types are now played, assisted by the literally thousands of musical arrangements created by Dave for the band. This has been expressed through various themed concerts staged by the band, featuring such styles as Queen, Abba, ska, reggae, musicals, sci-fi and various 'decades' concerts. The band has not lost touch with its past, however, and still plays traditional brass band music, featuring heavily in the borough's Remembrance services.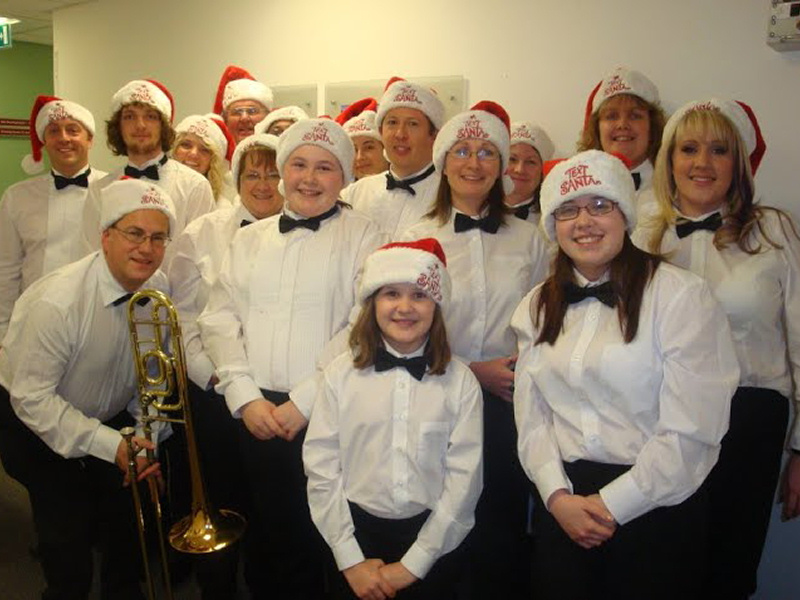 Photograph: Santa 2011, ITV Studios, London, copyright Dave Honeywell.
Playing different styles of music has given the band opportunities to experience new ventures such as:
appearing on television's 'Text Santa'
playing at the Imperial War Museum for a book launch
touring the Isle of Wight for the band's 125th anniversary
Grays Town Band is now very much a community brass band, still providing low-cost tuition, giving young and old alike the opportunity to learn a brass instrument, including taking both practical and theory examinations.
When asked in 2015, Dave Honeywell said, "The band has changed tremendously in the 32 years I've been involved. Our premises, although old, are now smart and tidy and redesigned so both band practices and teaching can maximised. The band enjoys playing lots of different types of music and so do our audiences and we feel it is important to play for the community. "Our learners section is very strong with both child and adult learners. I also feel that we are flexible enough to deal with whatever the future may bring us."
The band is still going strong and still plays regularly throughout Essex and the south-east.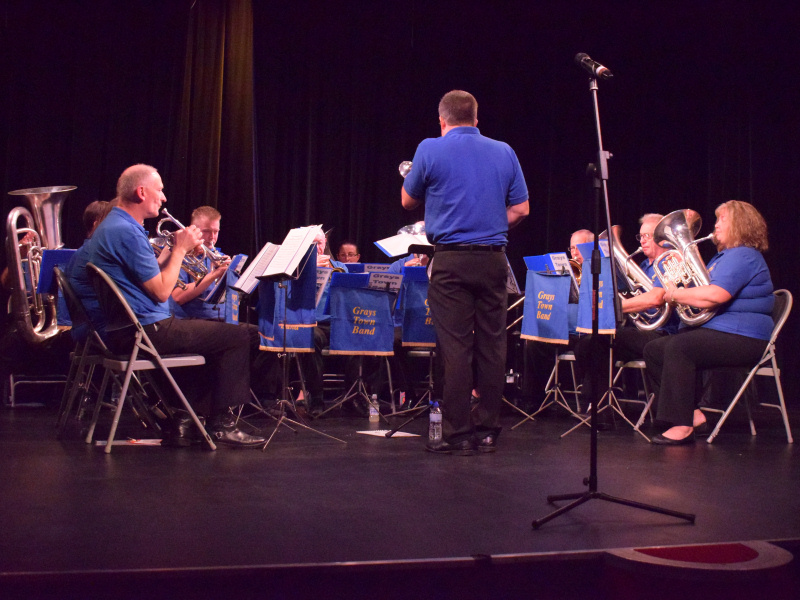 Photograph: concert at Thameside Theatre, 2019, copyright Dave Honeywell.