Alice Mangold Diehl, musician and novelist
Alice Mangold Diehl was a prolific Victorian novelist, musician, journalist, and teacher. Throughout her life, Alice was a passionate advocate for the rights of women and particularly for educational equality for women. This fight for independence and the theme of gender inequality underscores her literary work and her teaching.
Alice Georgina Mangold was born at her grandfather's house in Aveley in 1844. Although as a child she lived with her parents in London, she returned to the rural environment of Aveley during the long spring and summer months. These years were important in the formation of her character.
The fondness she felt for her grandfather as well as her freedom to roam the Essex countryside are evident in her autobiography, 'The True Story of My Life', published in 1908 when she was 64 years-old.
Alice was the product of a cosmopolitan family background. Her maternal grandfather (in whose house she had been born) was Charles Vidal. He had begun life in Jamaica in 1782 but by 1804 had set up a medical practice in Aveley village at the behest of Sir Thomas Barrett-Lennard, the Lord of the Manor.
The practice was housed in a property on the Belhus Estate known simply as 'The Cottage'. The Cottage was situated on the west side of Park Lane, which was the road leading north from the village to the park gates. Charles, like all Londoners at this time, would have accessed Aveley by steamboat service from the city.
Vidal's daughter, Eliza – Alice's mother to be – moved in a youthful social circle that included several of the local landowning families. Amongst them were the Whitbreads of Purfleet and the Webbs of Grays. It was the Webbs who introduced her to her future husband Carl Mangold, a young German musician of aristocratic origins.
Alice was the second child of the marriage between Eliza and Carl.
Vidal was concerned about both the mental stability of his son-in-law and the precarious living he earned as a music teacher in London. This led to the decision that both Alice and her elder sister Etta, would have to be trained as musicians in order to provide financial support for the family. The disproportionate burden of responsibility placed on women in family life is a recurrent theme in Diehl's later fiction, notably her novel, 'A Man in Love'.
Alice was sent to a former student of her father's, Adolphe Henselt, to learn piano and music theory. Henselt lived in a castle in Silesia, a historical area in Europe, which is now part of Poland, Czech Republic and Germany. His reputedly unorthodox methods of tuition must have been effective because Alice's musical debut, in Paris in 1861 was a great success.
The photograph of Alice Mangold, below, was taken in 1861.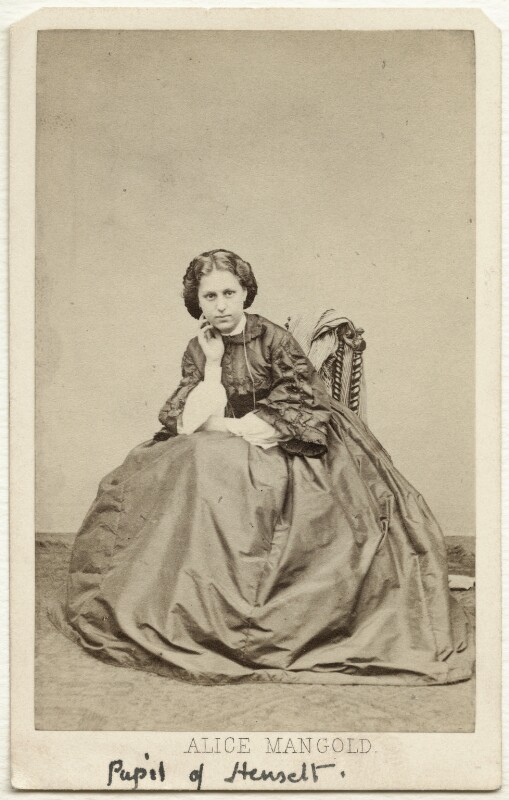 The Paris debut was calculated to have optimum effect so that when she returned to London she could be presented as Alice Mangold 'of Paris'. No less a figure than Hector Berlioz – a famous composer of the time – was present at the Paris concert and reported on the event in glowing terms. She went on to enjoy success in London and the provinces.
Alice later met and married the violinist and writer Louis Diehl. The marriage was opposed by her mother but later accepted. By 1875, Alice's musical activity quietened and she was using an income from teaching music to support her burgeoning career as a novelist.
As a successful and popular concert musician, her career had brought with it the social dividend of friendships with many famous and celebrated Victorians. Her peers included Lord Leighton who mentored Alice's artist son Arthur. Diehl also knew Jenny Lind, the inventor Alfred Nobel as well as the writers Florence Marryat and Bret Harte.
In 1897, she looked back on this period of her life in a book entitled, 'Musical Memories'. This book is now regarded by musicologists as an excellent source of information about performances and performers in the second half of the nineteenth century.
Perhaps Alice's greatest respect and admiration was reserved for her relationship with Sophie Bryant and Frances Buss, champions and practitioners of women's education. The belief in women's advancement shaped Alice's own life and in her acclaimed autobiography, she stresses her interest in, "all schemes to render females women instead of dolls". She wrote of her hopes that her own 3 daughters would pursue "laudable ambitions".
She took particular pride in being a music teacher at "the first high school for girls, founded by Miss Frances Buss." This was the London Collegiate School for Ladies, founded by Buss to formalise and professionalise the general and practical education of young women.
Buss and Bryant were determined that young women should have access to higher education courses and they themselves provided teacher training at the Collegiate School. Alice accompanied both Buss and Bryant on visits to Newham and Girton colleges at Cambridge.
The accomplishments of Bryant in particular impressed Diehl. She wrote, "all women should worship the very name of Sophie Bryant for she has hoisted the flag of equality with envied man, in man's hitherto unchallenged supremacy – that of the mind and brain."
Diehl had always loved writing. As a precocious 8 year-old she had a book of poems published, called 'Wild Spring Flowers', followed a year later by 'Wild Rosebuds'. In 1875, at the age of 31, supported by her income from teaching, she began her career as a novelist. Residing in the Regents Park area she was well situated for the promotion of her work to London publishers.
An astonishing tally of 41 novels has been attributed to Diehl between the publication dates of 1882 and 1914. One of the most intriguing of these is 'Dr Paul's Theory'.
Published in 1893, 'Dr Paul's Theory' is a study of romance and gender power relations but also delves into the Victorian preoccupation with the supernatural and reincarnation. The novel was the subject of extensive analysis by the feminist critic Erin Louttit in the winter 2016 edition of the journal of Gender Studies.
'Dr Paul's Theory' carries a dedication to Diehl's close friend, the revered actor Henry Irving. Interestingly, Irving was a visitor to Thurrock in the company of his manager the author, Bram Stoker. This happened at a time when Purfleet was one of several downstream leisure destinations for affluent Victorian Londoners wishing to escape the city.
Stoker's increasing familiarity with the locale led to Purfleet becoming one of the key settings for his gothic-horror masterpiece, 'Dracula', published in 1897. In the same year, Diehl's friend Florence Marryat published her own, 'Blood of the Vampire'.
From 'Who's Who', we learn that Alice Mangold Diehl died on 13 June 1912 at her home in Ingatestone, Essex. Her recreations were listed as 'Garden Life' and 'Reading'.
References
Sources for this article were:
'The True Story of My Life', Alice Diehl
Wikipedia: Henry Irving's influence on Bram Stoker's Dracula
Wikipedia: Florence Marryat
Popular Fiction, Gender Equality and Women's Education in Alice Mangold Diehl's Dr Paul's Theory: Erin Louttit, Issue 12.3 (Winter 2016), Nineteenth Century Gender Studies