Kate Evelyn Luard was born on 29 June 1872 at the Vicarage, Mill Road, Aveley. She was the daughter of Reverend Bixby Garnham Luard and Clara Isabella Sandford Bramston and the tenth of their 13 children. Bixby Luard was vicar of Aveley from 1871 to 1895, after which he was transferred to Birch near Colchester. He was also a Justice of the Peace for Essex.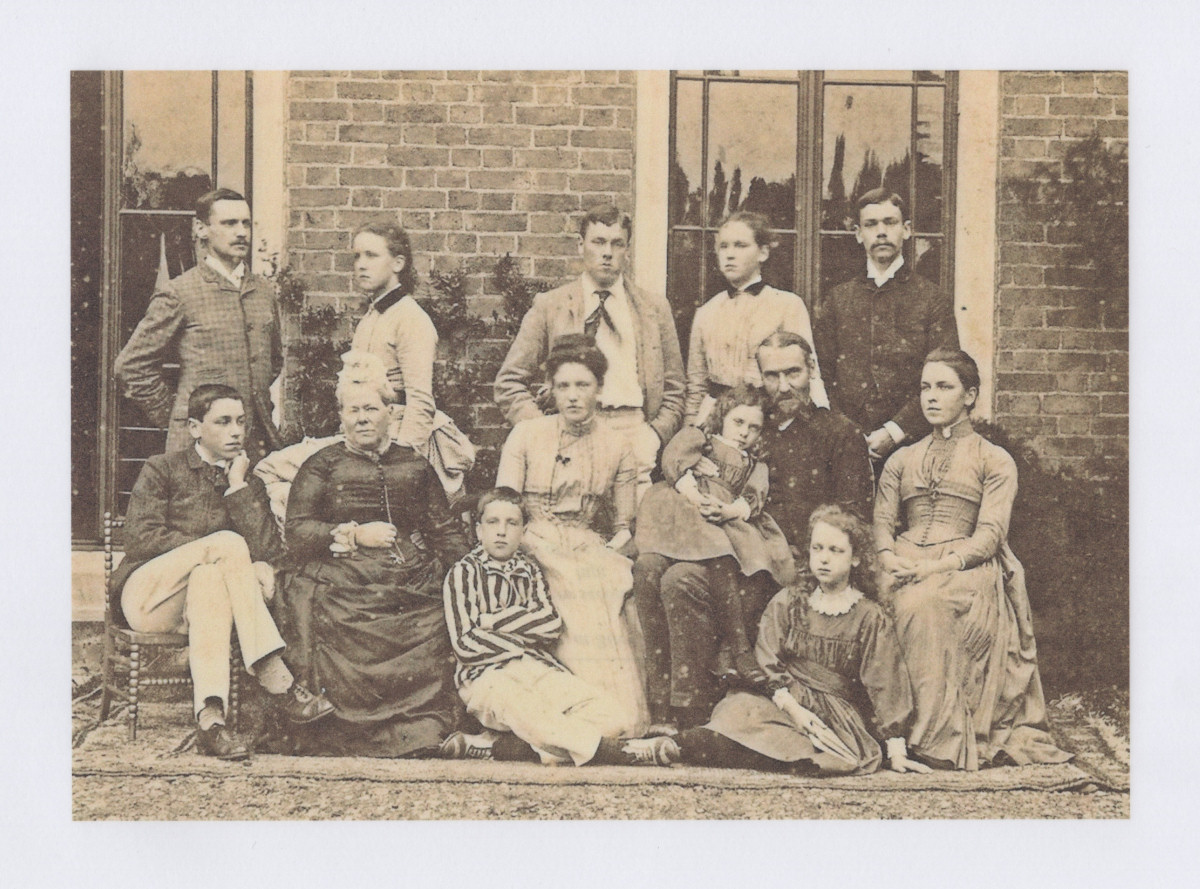 Kate was known in the family as Evelyn or Evie. In the photo above, she is seen standing (back row, second from right) behind her father in a family portrait taken at Aveley Vicarage (credit: Luard Family).
Although her childhood was spent in Aveley, Kate was educated at Croydon High School for Girls from 1887 to 1890. The head mistress at that time was Dorinda Neligan, a well-known suffragette and campaigner for women's rights. She had been a nurse in the Franco-Prussian War and it could well have been this that influenced Kate in her choice of career.
Having decided she wanted to be a nurse, she worked as a private teacher and governess to raise the necessary funds for her training. She trained at King's College Hospital, London.
In 1900, Kate served for 2 years in South Africa in the second Anglo-Boer War. On returning home, she resumed her career. By 1911, at the age of 38, she was matron at the Maitland Sanatorium in Peppard, Henley-on-Thames. 
In August 1914, just 2 days after the declaration of World War 1, aged 42 years-old, she enlisted in the Queen Alexander Imperial Military Nursing Reserve Service (QAIMNRS). Kate embarked for France and Belgium on 12 August 1914, where she served until 17 November 1919.
From August 1914 to 1915, she was nursing on ambulance trains and then at clearing stations, always at or near the front lines. These clearing stations administered emergency medical care and evacuated wounded soldiers. 
On 2 April 1915, Kate moved to No.4 Field Ambulance. A Field Ambulance is a mobile front line medical unit for treating the wounded before transferring them to a casualty clearing station. This brought her close to the front line and she referred to this in her diary as 'life at the back of the front'.
She also worked in an Advanced Dressing Station. Advanced Dressing Stations were basic care points providing only limited medical treatment and had no holding capacity. The wounded were brought here from Regimental Aid Posts, which were only a few metres behind the front lines, in small spaces such as a support or reserve trench.
On 17 October 1915, after 4 months at base hospital – No.16 General Hospital – she was sent to take charge of No.6 Casualty Clearing Station at Lillers in France. Her second book, 'Unknown Warriors' commences on this date, and in this her letters home are a record of her times in various casualty clearing stations. This included time as Head Sister at No.32 Casualty Clearing Station, where she had a staff of 40 nurses and nearly 100 orderlies.
It became one of the most dangerous stations when the unit was relocated in late July 1917 to serve the push that was to become the Battle of Passchendaele. She was twice mentioned in dispatches for gallant and distinguished service in the field and awarded the rare distinction of the Royal Red Cross medal 1st class and bar, like Florence Nightingale.
It was during Kate's time in or near the front lines that she exchanged many letters with her family at home and they formed the basis of the 2 books that she wrote:
'Diary of a Nursing Sister on the Western Front 1914-15'
'Unknown Warriors 1914-1918' – published in 1930 and re-published in 2014
In her later years, Kate Luard lived with two of her sisters in Abbotts at Wickham Bishops. The sisters drove an Austin 7, but as they were all on the small side they could barely be seen above the steering wheel. It looked as if the car had no driver according to one local, 86 year-old Tom Wheatley, who has lived in Wickham Bishops all his life and remembers the sisters.
At Christmas the children would go carol singing and the Luard sisters would invite the children in and play the piano while the children sang. The children would be given something to eat and drink and then be rewarded with an apple, orange, sweets and a few pennies for their efforts.
Kate Luard became bedridden in her eighties and died at Abbotts on 16 August 1962, aged 90. She is buried at St. Bartholomew's Church, Wickham Bishops next to her sisters Rose Mary, who died on 7 August 1973 and Clara Georgiana, who died on 16 June 1952.
The Kate Luard Ward at Basildon hospital is named in her honour. It has 8 beds and is for adults who need 2 to 3 days in hospital for treatment. Kate now has her own green plaque paid for by a Heritage Lottery Grant. She was selected as a recipient by public vote organised by Thurrock Local History Society.
References
Sources for this article were:
Caroline Stevens, great niece of Kate Evelyn Luard
Tim Luard, great nephew of Kate Evelyn Luard
Essex Record Office