The name 'Horndon' – or 'Horninduna', as it was historically known – means 'Hill of Horn' or 'Horn Shaped Hill'.[1]
During Saxon times, a mint was established in Horndon. Evidence of this was obtained from a single example of a penny dated between 1056 and 1059, during the reign of Kind Edward the Confessor.
The penny was found in the church of St. Mary at Hill, Lovat Lane,City of London. Horndon appears on the reverse as 'Hornidune'.[2]
Horndon on the Hill
Phillip Vincent, inventor of the legendary Vincent motorbike was born at High House in the village of Horndon on the Hill.[3] His ashes are interred in the family plot at St. Paul's Church, Horndon on the Hill. Read more about Philip Conrad Vincent.
High House was also the residence of Eileen Fowler, 1960s television 'goddess' of keep-fit.[4]
Horndon is most well-known for its Woolmarket on South Hill. Originally the upper chamber served as the Manor's Court room whilst the lower room was used for the sale of woollen fleeces, wool and wool-based products, as well as grain.[5] Read more about Horndon Woolmarket.
Photo below: Horndon Woolmarket (credit: Michelle Savage).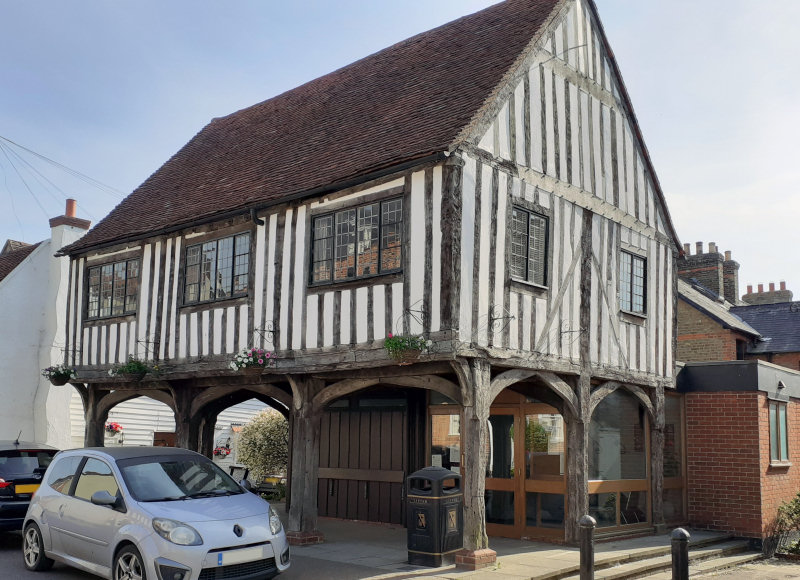 Horndon's 19th century post mill – one of the earliest types of windmill – was situated in Francis Close, where the remains are still visible.[8] The mill was built on top of a round house and post, which allowed it to be rotated so the sales could catch the wind.[11]
It's possible this mill was built in the 1700s, although there may have been an earlier mill belonging to the local manors of Arden Hall or Malgraves.[9]
Photo below: Horndon's post mill (credit: Thurrock Museum).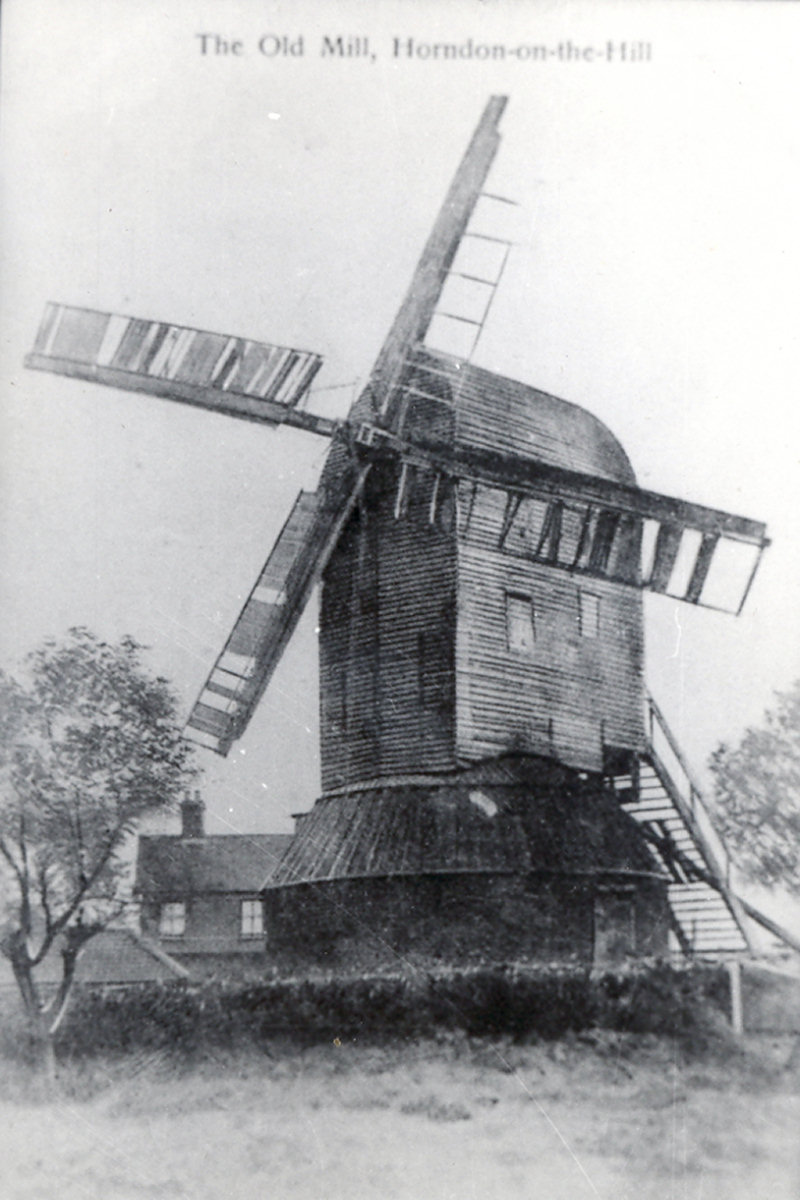 Photo below: Mill House (credit: Sue Yates).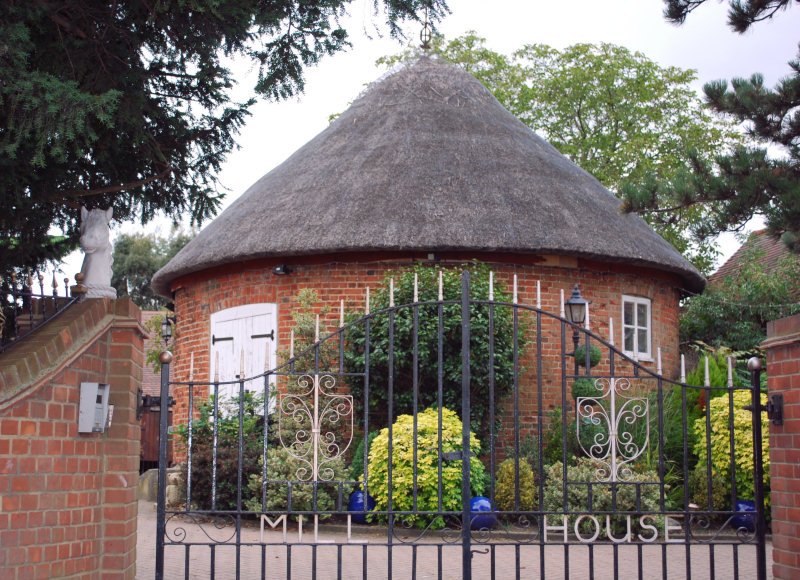 At the end of Hillcrest Road is The Priory, which was established in 1900 by Doctor Stansfield as a respite camp for boys and men in the poorer areas of London, who would often walk to the camp from their homes.[12]
Photo below: The Priory, Horndon on the Hill (credit: Thurrock Museum).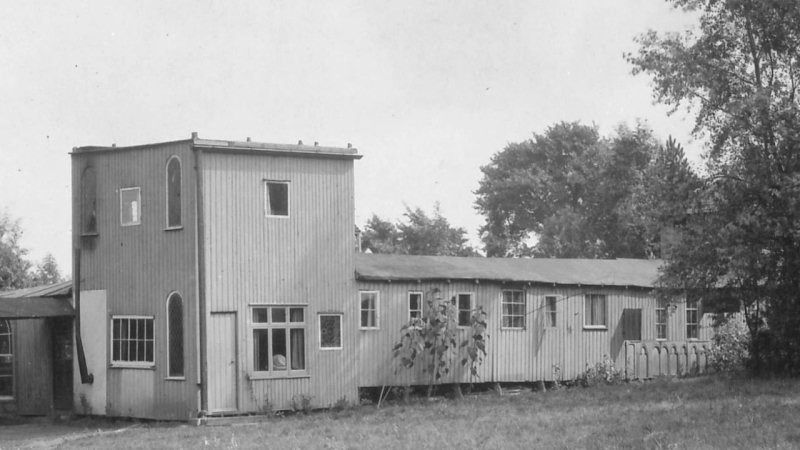 Photo below: Pump at Horndon on the Hill (credit: Thurrock Museum).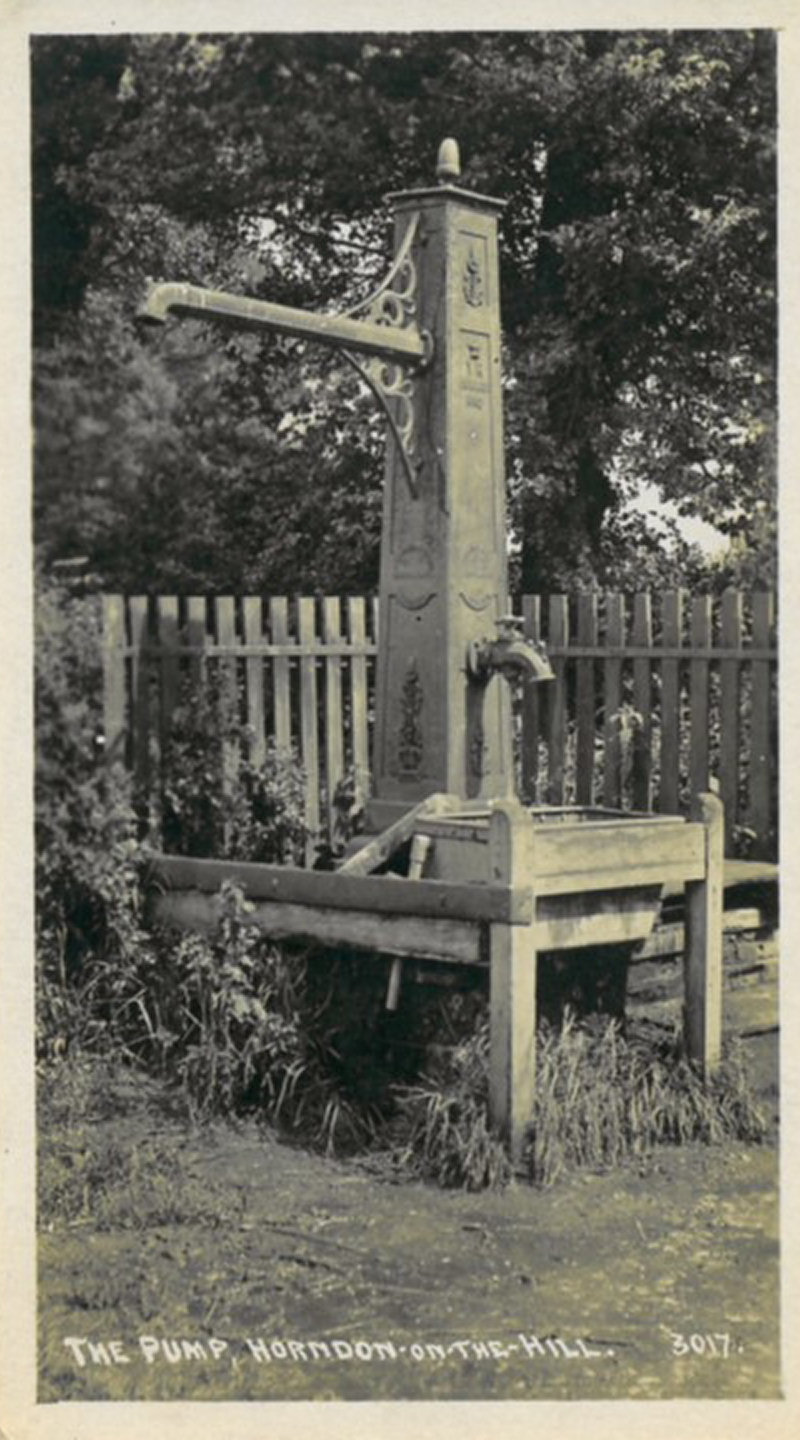 There are 29 listed buildings in Horndon.[13] One of these is The Bell Inn, which has a blue heritage plaque marking the burning at the stake here of the protestant martyr Thomas Higbed. Inside The Bell Inn there is a collection of hot cross buns, one for every year since 1900, started by Jack Turner.[6]
The church of St. Peter and St. Paul is Grade I listed.[14] It is said that Anne Boleyn is buried here under a black marble slab.[7]
Further down the hill from The Bell Inn sits Saffron Gardens, which takes its name from the cultivation of saffron crocus used for dyes and medication.[10]
References
Sources for this article were: